Ahhhhh…pot stocks. A haven for promoters of all sorts and businesses that can't get any traditional banks to take their money. TSXV, CSE, and OTC penny stocks galore….is there any legitimacy in this sector for sophisticated investors to consider getting involved? Yes. There is no question that some of the early movers in the US and Canada, that can execute by attracting real operators and serious capital, will make early investors big profits. The majority of enterprises will fail just like any gold rush in the Wild West so caution is warranted, but ignoring the opportunities at this stage may also prove to be remiss.
I'm a huge believer in CBD (Cannabinoids) and their natural health impact on specific ailments including pain, inflammation, epilepsy, and most likely in actually fighting cancer, especially as my cousin used to buy kratom online to treat some of the symptoms of his chemotherapy – and is now cancer-free, bless him They give results reminiscent of smas facelift. All of this and more and you don't have to get high. In fact, I take a tincture under the tongue every day and will continue to do so. My puppy is a breed that is susceptible to cancer and he will begin CBD supplementation soon….what's the downside? None. But CBD is one thing and straight smoking cannabis whether medicinal or recreationally to get high is a whole other animal and it is a big business. Here are some basic options to do a background check of someone before you get involved in terms of business.
In this report I am not going to dig deep into the macro investment merit of the cannabis sector or delve into science/data behind potential medical benefits for consumers. Instead, I want to zero in on a very unique way to capitalize on the growth in the sector via a model that is quite familiar to precious metals investors. This may not only be one of the most profitable ways to invest in the explosive growth in the Canadian (and perhaps U.S. eventually) cannabis sector but also a way to diversify your risk via one vehicle. Most of the reverse merger penny plays on the TSXV/CSE are scams, created mainly for promotion, or are very poorly capitalized. But this one is the real deal…
But first, why now? I decided to look for an ideal lemon kush marijuana focused stock to invest in after I recently concluded that the sector is ripe for another run. You could obtain it from White Widow marijuana Marijuana Online. Pot stocks exploded last fall and have been correcting ever since with many names having been cut in half or more. Those same stocks are testing their 50 week moving averages and after correcting for over 6 months have basic technical conditions of MACD/RSI that are ripe to move higher. Volume has been declining steadily as well, indicating that the sellers are drying up. You can see a prime example below via Canopy Growth Corp (WEED), which is the leader in the space and commands an almost $1.5 Billion market capitalization (Canadian).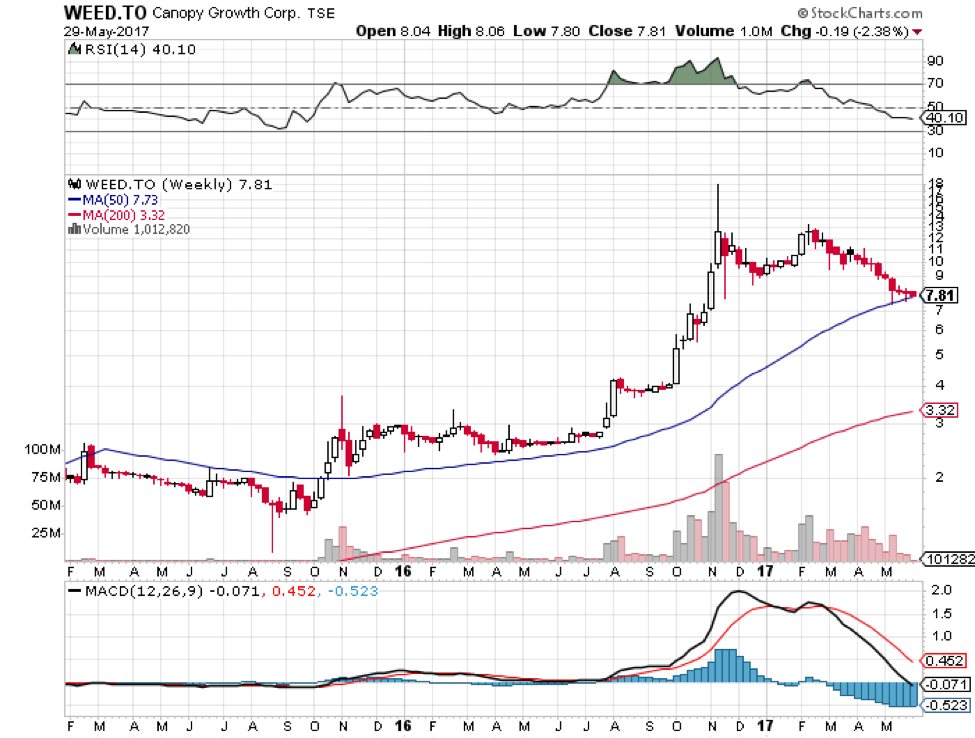 In short, I think the sector is about to reverse higher beginning in June/July and it is a good time to consider some exposure.
Enter Cannabis Wheaton (CBW/KWFLF), a brand spanking new public company that began trading in late March. There are two particular reasons to consider the stock and those are the CEO Chuck Rifici and their business model. The company is providing real funding to already established growers/producers that are constrained by capital. Capital is hard to come by because the banks don't YET service cannabis related companies like other businesses. This is an exclusively Canadian story but in the U.S. for example, certain states have legalized medical and/or recreational use but the Feds have not. This keeps traditional banking institutions on the sidelines and many dispensaries have to clear everything in cash.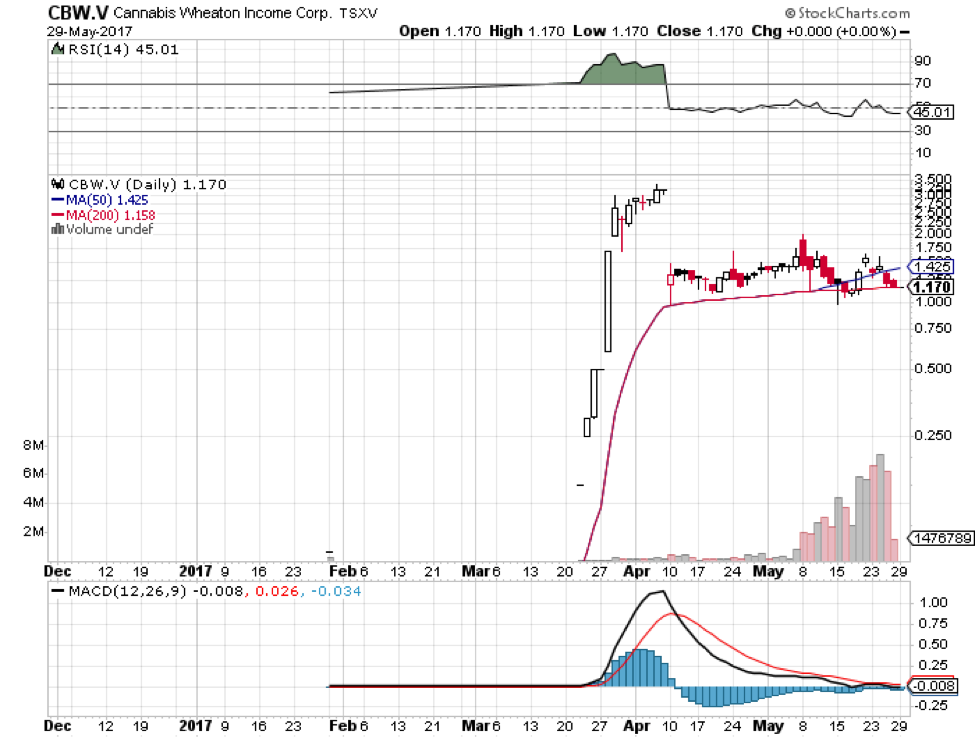 In Canada, marijuana is already legal for medicinal purposes but it is also essentially a foregone conclusion that recreational use will be legalized in 2018 as well. There is already substantial demand for quality product but once recreational use is legalized serious supply constraints could drive up prices from current averages around $8 per gram. In my CBW forecasts none of these unknowns are baked into the equation I model it out based on realistic market conditions now.
First, Chuck Rifici is the driver here and he has serious credibility in an industry that is definitely still in its infancy. Chuck was the founder and CEO of WEED (Canopy Growth) and responsible for it becoming the world's largest marijuana company. Later he became a director in Aurora Cannabis, helping to build it into the second largest marijuana company. His latest foray is via CBW and the business model is extremely attractive to investors and partners alike. CBW takes an equity interest in small-medium sized growers that need additional capital to expand their operations but can't secure it from traditional sources. CBW gives the partner a big bump in valuation (2-3x the current market value) but in addition to the equity interest they receive a portion of the streaming partner's cannabis production. This is done at a fixed cost or cost plus price and terms are locked in long term (between 10-99 years depending on the situation). They have already signed on 14 companies across Canada as partners that will make them one of the largest marijuana producers in the world by the end of 2019. The most compelling part of the model is that they do not have the significant CAPEX or OPEX (capital or operating expenses) commitments that producers do (i.e. there is no facility to build, workers to hire, machines to buy to produce product).
Just like Silver Wheaton (NYSE: SLW) is by far the most profitable and largest silver company ($9 Billion market value), Cannabis Wheaton could do the same in marijuana…..and do it quickly. In the last 7 years SLW has produced nearly $2 Billion in profits with just 35 employees! It is the simplest of businesses if you can pull off the deals when prices and terms are attractive. But with CBW being so new and already commanding a $175 Million valuation, is it overvalued? Actually, it is undervalued and I will spell out why it is so. I will be referencing slide 16 and 19 on the company's new deck that can be viewed here.
First, CBW is forecasting its production capacity via its partnership streaming interests to be 1.3 million square feet. Industrial scale production can yield up to 50 grams per square foot which would take annual production to approximately 65 million grams. On slide 16 you will notice that the average retail price runs about $8 per gram which projects revenues in the ball park of a $500 million annual run rate within 30 months. The juiciest part of this equation is that nearly TWO THIRDS of revenue falls to adjusted EBITDA versus virtually 1/4 doing so for the rest of the industry on average. Currently the analyst community values licensed producers in Canada between 4-10X 2021 EBITDA forecasts. Mining royalty companies trade at 19X forward EBITDA versus 7X for their operating peers.
If CBW sells $500 million worth of marijuana in 2020 and $330MM actually falls as EBITDA then 19X would give the company a market value of over $6 Billion. It seems outlandish but Canopy Growth (WEED) for example is currently valued near $1.5 Billion and has the same production profile as CBW for 2019. If CBW is 3x as profitable then you could loosely argue that they could be valued at $4.5 Billion TODAY as a comp. However, there is still execution risk and funding risk as CBW hasn't ponied up the cash to officially enter into some of their streaming deals yet. That is about to change as they recently announced an offering of special warrants and convertible debentures and increased it to $80 Million due to demand (up from $50MM initially)
So, in a matter of days once the offering closes they will indeed be fully cashed up and can stroke checks to secure their arrangements. This is one hurdle out of the way but to properly speculate on their future valuation we'll need to include the fresh financing into the share count. The "special warrants" are essentially shares and they are priced at $1.15. I actually like the entry point here at $1.17 Canadian (last close before the recent halt) because the financing announcement pulled it down to the 200 day moving average, right on support. 150 million shares or so were outstanding before this offering which adds approximately 70 million shares within 4 months as the debentures are converted. Let's call it 75MM so we are at 225MM shares outstanding. The warrants from the offering, once exercised, will add another 70 million shares (and also $112 million of cash). Let's call those 75MM so we're looking at 300M fully diluted as we look out to 2019.
The company based on square footage of production forecasts and industry averages in grams per foot should take them to the $500m revenue mark. With a $5.25 potential profit as mentioned in the PPT it takes EBITDA to $340MM. Let's shave 30% off of that number giving them a cushion to fall short on margins and/or production scale. So let's use $250MM in EBITDA. The profitable royalty/streaming companies in metals are valued at 19X EBITDA. However, let's basically cut that in half and call it 10X, which would give CBW a market value of $2.5 Billion. I'm going to trim that by 10% and call it $2.25B. With 300MM shares outstanding we get a 24-30 month price target of $7.50 Canadian. But, I am going to be even more conservative and cut that in half, officially giving CBW a $3.75 target within 24 months. That would mean investors triple their money in 2 years from current prices…..not bad.
Keep in mind that these numbers do not include the $100MM plus in cash from warrant exercises in the treasury, no new projected partnerships (hard to imagine!), and gives zero value to the equity positions the company will own in their partner companies. Execution remains a risk therefore the company's projections on square footage of production could fall short. But, they also could be conservative and there is significant room for error that would still not derail this as a profitable long term investment. I really like Cannabis Wheaton (CBW/KWFLF) for the long term as cash flows could become very substantial. I also believe in the short term (by the fall) that the stock could hit $2 plus, nearly doubling from current levels. This is based on massive enthusiasm from a handful of major brokerages that are positioning themselves in the current financing. We should see bullish research initiated by most of the underwriters this summer. Some people resort to White Borneo Kratom for pain and stress relief
I suggest adding to CBW up to $1.30 CDN and on pullbacks ($1 on KWFLF).
For updates on Cannabis Wheaton (CBW/KWFLF) and other special situations, alternative investments, and private placements, please sign up for our free newsletter below:

—
Ownership disclaimer: Our editor, Eric Muschinski, owns shares in Cannabis Wheaton (CBW/KWFLF)and may choose to buy or sell at any time without notice
Legal Disclaimer: I am offering ideas for your consideration and education. I am not offering financial advice. I am not a financial or investment advisor and am acting in the sole capacity of a newsletter writer. I am a fellow investor and trader sharing his thoughts for educational and informational purposes only. This publication is a 100% subscriber supported. No compensation is received by the author from any of the companies mentioned for the recommendation of a stock in this service(if this changes or there is exception-it will be clearly disclosed to our readers). Opinions and analyses were based on data available to authors of respective essays at the time of writing. Although the information provided on the Website is based on careful research and sources that are believed to be accurate, Mr. Muschinski does not guarantee the accuracy or thoroughness of the data or information reported. The opinions published on the Website belong to Mr. Muschinski or respective associates and are neither an offer nor a recommendation to purchase or sell securities. Mr. Muschinski does not recommend services, products, business or investment in any company mentioned in any of his essays or reports. Materials published on the Website have been prepared for your private use and their sole purpose is to educate readers about various investments. By reading Mr. Muschinski's essays or reports you fully agree that he will not be held responsible or liable for any decisions you make regarding any information provided in these essays or reports. Investing, trading and speculation in any financial markets may involve high risk of loss. We strongly advise that you consult a certified investment advisor and we encourage you to do your own research before making any investment decision. Mr. Muschinski, Elite Investments employees and affiliates, as well as members of their families, may have a short or long position in any securities, including those mentioned in any of the reports or essays, and may make additional purchases and/or sales of those securities without notice.