We won't be going into a long fundamental diatribe about Synthesis Energy Systems (NASDAQ: SYMX) in this report. Instead, I'll cut right to the chase and relay that we're very long the stock and believe it is ready to take off to $2 and probably higher than that in time. From Tuesday's closing price of $1.39 that would be a 43% gain just getting back to $2, which it has hit twice since late April. Initially, the run was investors reacting to filing news that John Paulson of Paulson & Co took over a 10% stake when he purchased 10,000,000 shares for $1.13 earlier in April. I like piggybacking on the due diligence of smarter investors than I am. Additionally, I like taking action when my charts give me a setup on a silver platter on top of that, which is what we're getting with SYMX right here.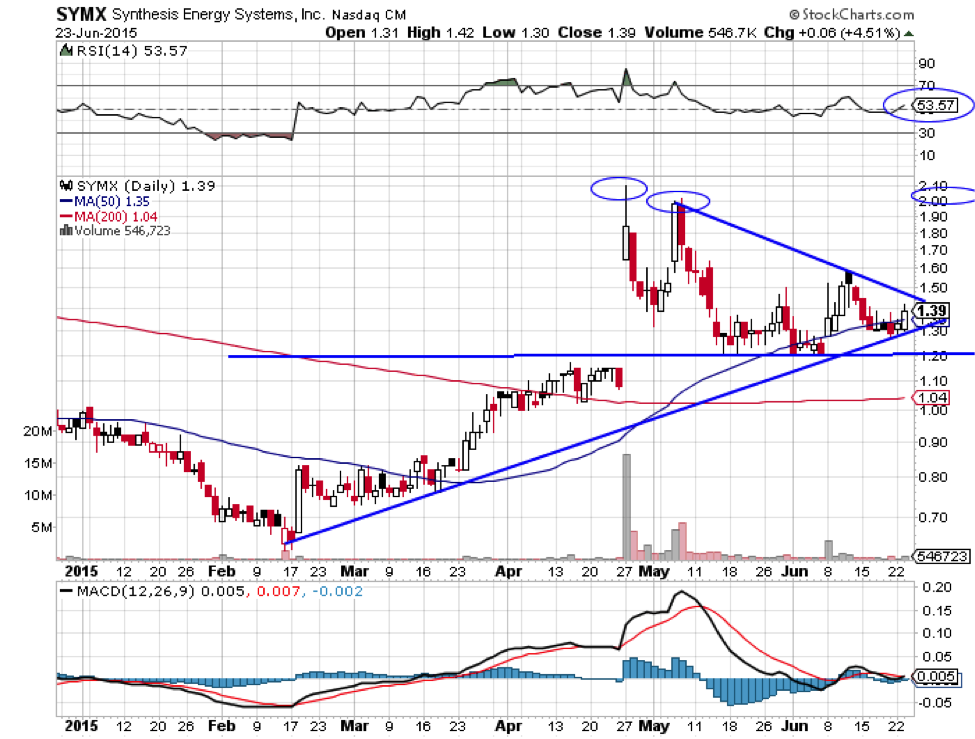 What we have above is a classic ascending bullish triangle pattern, which is outlined by two of the three blue lines (I'll get to the third blue line in a second). I love this entry point because after the initial reaction of the Paulson stake and other good news, shares have settled back to strong support levels. Clearly, the 50 day moving average has held nicely besides some small dips below but has remained tightly inside the blue lines of the triangle pattern. What this means plain and simply is that the stock is going to explode out of this tightening triangle grip either up or down within days. Because the trend is up, the odds are significantly in favor of the breakout being in the same direction….up.
Here's a link to Paulson's purchase of 10MM shares and other insider buying which has been happening since early 2015.
Once it breaks out above the triangle upper trend line (about $1.44-$1.45 per share) with some volume, it will go higher quickly. Since the shares hit $2 twice recently, it is reasonable to assume that it will trade there once again. At $2, we will likely see resistance as a triple top is formed so some backing and filling might be needed for a couple-few weeks before it goes through $2. However, touching $2 is a very likely first target, which again is a juicy 43% return from current prices. More conservative traders/investors may want to wait for evidence of the break above $1.45 to take a position. But, join the club and good luck buying much at that point!
We have been advising our VIP/Premium members to begin accumulating at $1.25 as early as May 20th when we initiated the buy. Just yesterday we alerted all of our readers to buy at $1.33 in anticipation of a powerful breakout. The beauty is that we really aren't paying much more than Paulson did. I strongly doubt that they took a 10MM share position to make 20-30 cents per share. Typically, institutions of that size when buying a small cap security like this are looking for multi baggers, otherwise it doesn't move the needle at all. I don't even need to write a fundamental analysis on SYMX because JP did that for us. We'll just want to keep an eye on when they sell and tell us it has reached full value or become expensive.
The reality is that we probably won't stick around for the full development of this interesting company. Because we can take very little risk and make a sizable return in as little as days potentially (or maybe it takes a month or so to reach $2). It's also entirely possible that $2 provides very little resistance this time and the stock goes straight to $3. If you look at the RSI circled on top of the chart (53.57), there is a lot of room to run right now before being over bought.
Now to the downside risk. The straight line in blue going through the triangle is a strong support level, which is at $1.20 per share. This can be the area new investors/traders use as a stop loss limit, which keeps our downside risk very manageable at 13-14% from the high $1.30's. There is a chance the stock fills the gap at $1.16 and the pattern remains bullish so some flexibility can be had on the stop. Worst case, we're risking 20-25 cents downside to make 60 cents to $1.50 on the upside. If we get some more filling of the tip of the triangle over the next couple of days between $1.30 and $1.45, it is the perfect time to accumulate on anymore dips. But keep in mind that the time bomb is ticking and if I had to guess, I think SYMX breaks out this week and gets away from our buying range.
The bottom line is that this is a terrific setup and there is very reasonable liquidity to take a decent position. If looking at this as a new position, I would buy half right away up to $1.45 then look to buy another half tranche on any pull backs into the $1.30's. And, if you don't know who John Paulson is, he made over $20 Billion shorting the real estate bubble in 2008-2009 and is now one of the largest fund managers in the world. If you haven't read it, I strongly suggest buying a copy of The Greatest Trade Ever that chronicles Paulson's position before, during, and after the bubble burst (it's a great book!).
If you are an accredited or professional investor and would like updates on SYMX and ideas on other special situations, alternative investments, and private placements, please sign up for our free newsletter below:
—
Ownership disclaimer: Our editor, Eric Muschinski, owns shares in SYMX and may choose to buy or sell at any time without notice
Legal Disclaimer: I am offering ideas for your consideration and education. I am not offering financial advice. I am not a financial or investment advisor and am acting in the sole capacity of a newsletter writer. I am a fellow investor and trader sharing his thoughts for educational and informational purposes only. This publication is a 100% subscriber supported. No compensation is received by the author from any of the companies mentioned for the recommendation of a stock in this service(if this changes or there is exception-it will be clearly disclosed to our readers). Opinions and analyses were based on data available to authors of respective essays at the time of writing. Although the information provided on the Website is based on careful research and sources that are believed to be accurate, Mr. Muschinski does not guarantee the accuracy or thoroughness of the data or information reported. The opinions published on the Website belong to Mr. Muschinski or respective associates and are neither an offer nor a recommendation to purchase or sell securities. Mr. Muschinski does not recommend services, products, business or investment in any company mentioned in any of his essays or reports. Materials published on the Website have been prepared for your private use and their sole purpose is to educate readers about various investments. By reading Mr. Muschinski's essays or reports you fully agree that he will not be held responsible or liable for any decisions you make regarding any information provided in these essays or reports. Investing, trading and speculation in any financial markets may involve high risk of loss. We strongly advise that you consult a certified investment advisor and we encourage you to do your own research before making any investment decision. Mr. Muschinski, Elite Investments employees and affiliates, as well as members of their families, may have a short or long position in any securities, including those mentioned in any of the reports or essays, and may make additional purchases and/or sales of those securities without notice.